Solar Eclipse - Mexico 1991

A mexican stamp issued for the eclipse
In early 1991, I realized that I had the chance to take some leave from the Navy and make a trip down to Cabo San Lucas, Mexico to see my first total solar eclipse. Realizing that this was something special and I really wanted to record it well. I did not bother to get a video camera but instead focused on still photographs. I brought two cameras for use. One would have slide film and the other print film. I attached the print film camera to an 80mm F6 refractor with a 2X teleconverter. As July approached, I tried to read up on eclipse photography to better prepare myself. Unfortunately, I still was not ready when the big day came.
As totality approached, I installed a fresh roll of film in my camera just as I had planned it. I was going to use a 36-exposure roll of Fujicolor 400 professional print film and take exposures at different exposure times from 1/1000 to 1/15 second. I then proceeded to make a major mistake. I began to take more pictures of the partial phase of the eclipse. Realizing that I had already exposed 2/3rds of the roll with totality rapidly approaching, I terminated photographs of the partial phase and prepared for totality. During totality, I went through my routine of shooting pictures through the refractor but because of my mistake, I only managed to obtain a little over a dozen photographs of totality (including diamond ring photographs). I then decided to pull out my slide camera and shot exposures with my 200mm F2.8 lens and a 2X teleconverter. As I ran through my exposure times, I ran into difficulty. The shutter on the camera stuck open.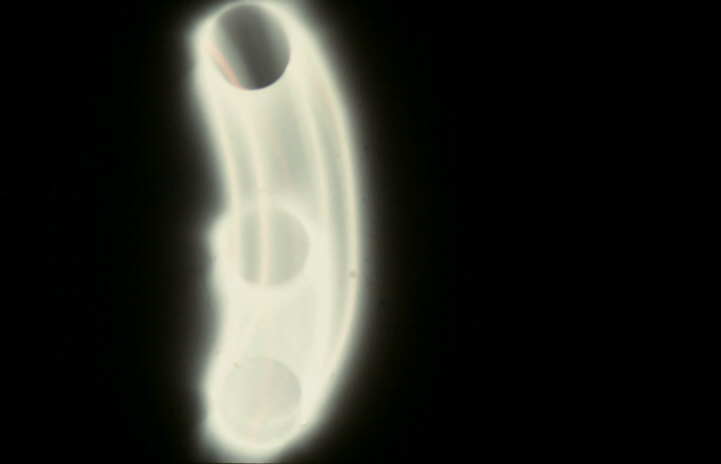 Oops, my camera shutter sticks open during totality!
I had experienced this problem on occassion before with my old Pentax using exposures between 1 and 1/15th second. I was able to unstick the shutter by switching to bulb mode but the damage had been essentially done. I chose to go back to the telescope camera and prepare for the diamond ring effect. I was lucky to record the diamond ring exposures on the last two frames of the roll. I was relieved of being able to record most of the eclipse on film.Totality was breathtaking and I recall being awe struck by the beauty of the corona with my eyes. There were lessons learned that I hope to apply the next time around (which I hope is going to be in 2017).
Lessons learned
Use the highest resolution possible on your camera settings. Make sure you use a large memory chip and take plenty of images. Have a full charge on the battery and a full charged back up battery as well.
There are no wrong exposure times for totality. All will record some degree of detail.
Be ready to shift the focus slightly when you remove the solar filter from the front of the lens/telescope. I ran into this problem.
Portability is key to traveling to an eclipse where you have to fly. I took a morning flight to Cabo that arrived a few hours before totality. I carried one large bag that had two tripods (one was very small and one was heavy duty), the small refractor, two cameras with lots of film, a portable equatorial drive mount that mounted on the tripod, and various lenses.
Multiple cameras are good. A handy backup camera can be extremely useful in case there are problems. With todays digital age, even a small 2 megapixel camera would be great for some phases of the eclipse. Next time, my wife will be with me and I plan on having at least three in use as well as a video camera.
The ideal focal length should be able to record the moons disk at about 1/3 to 2/3 the cameras field of view. This ranges from about 400-1000mm. Most portable refractors and cassegrain/maskutovs seem to fit this need. Use a 2X teleconverter if necessary.
Rehearse your schedule prior to totality and expect the unexpected. Rehearsing helped but I did not expect some of the problems I encountered.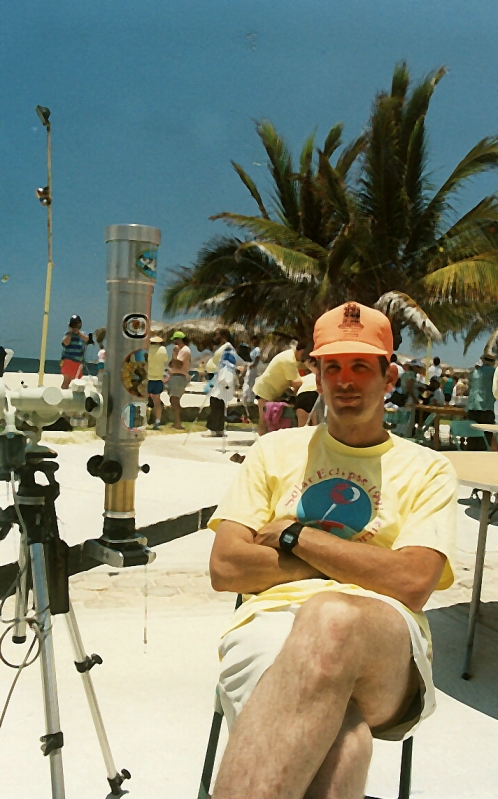 Waiting for totality. Me with the instrument of choice for eclipse. Not visible is the right angle viewer for my camera. With the sun overhead, this was valuable in centering the sun for photography.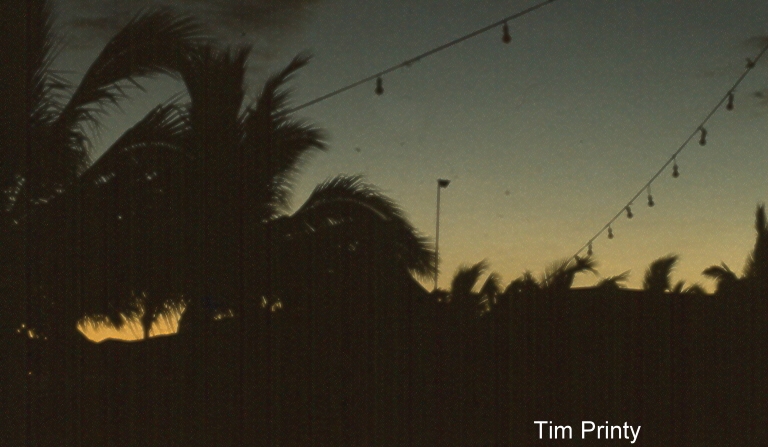 A 50mm shot of the sky just before totality.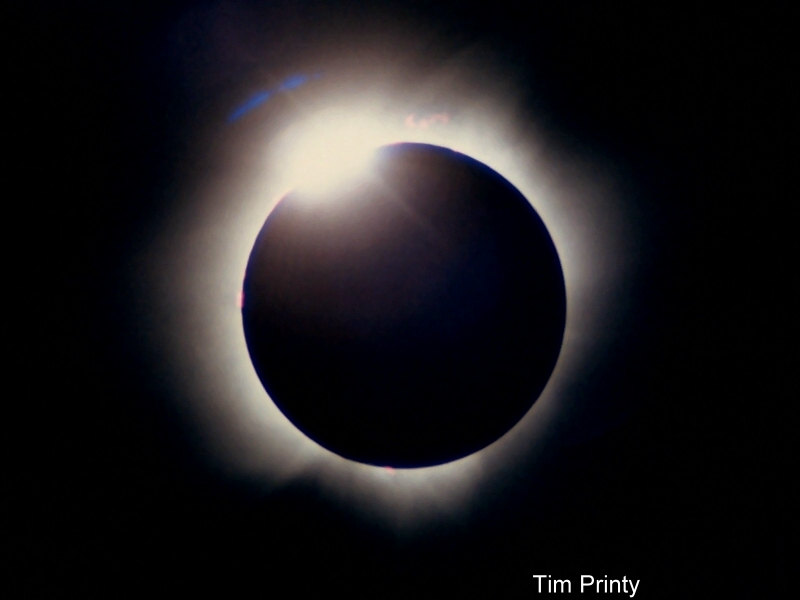 The diamond ring just before totality started. Exposure time was probably 1/1000th second using my refractor (960MM@F12)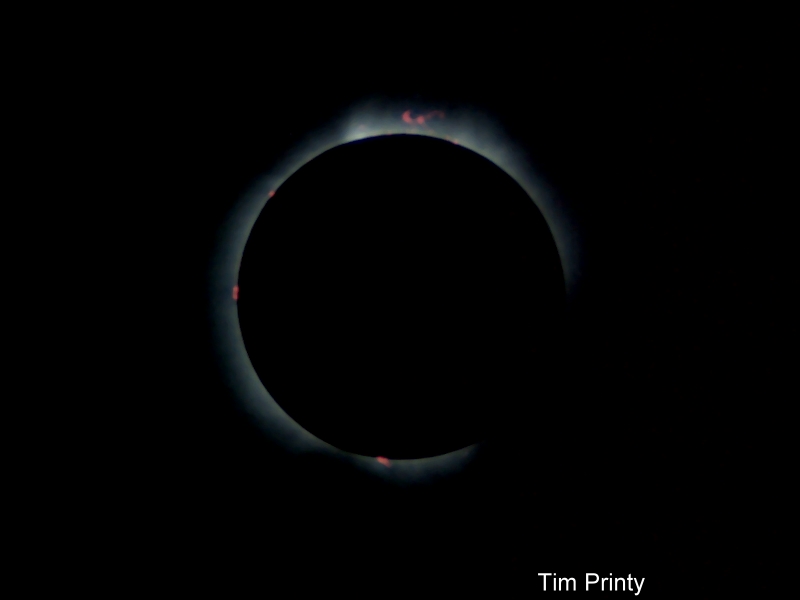 This "S" shaped prominence was visible in the first part of totality. Exposure time was probably 1/1000th second using my refractor (960MM@F12)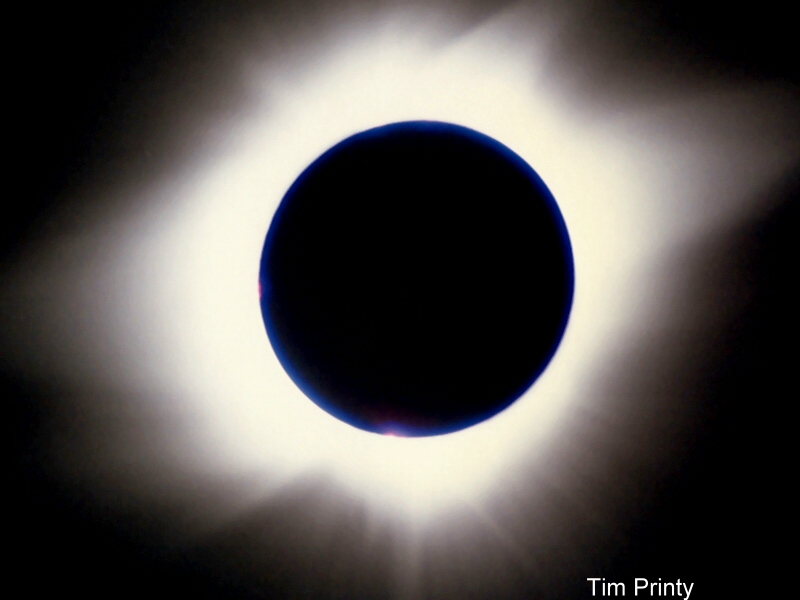 The Corona during totality. Exposure time was probably 1/15th second using my refractor (960MM@F12)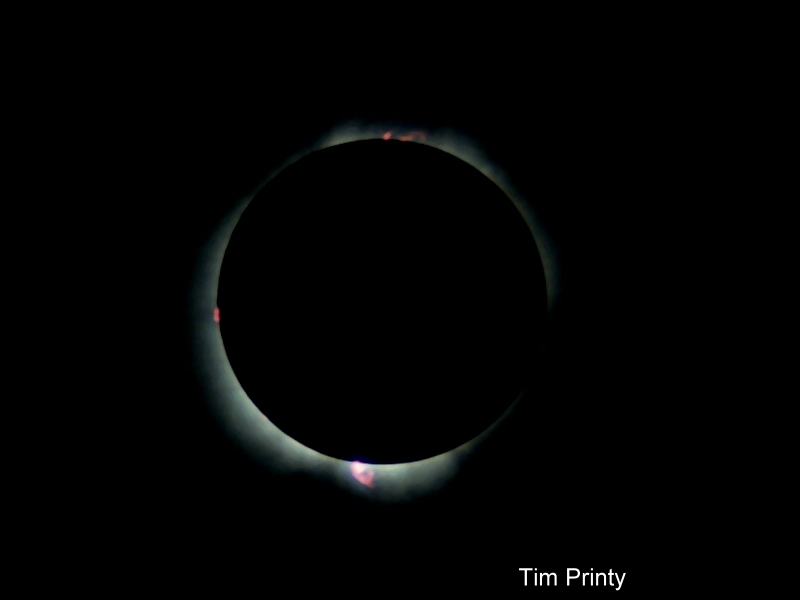 This "Seahorse" prominence at the bottom was visible just before the end of totality. Exposure time was probably 1/1000th second using my refractor (960MM@F12)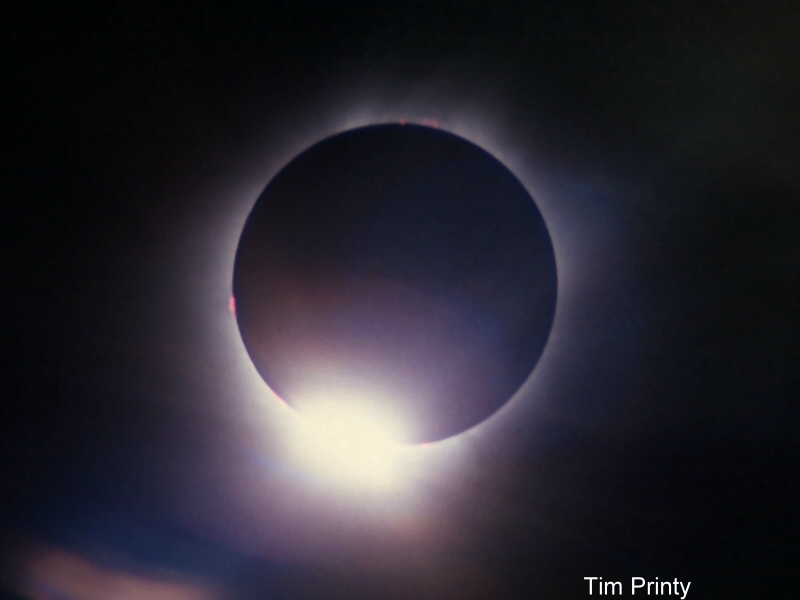 The diamond ring just after totality ended. Exposure time was probably 1/1000th second using my refractor (960MM@F12)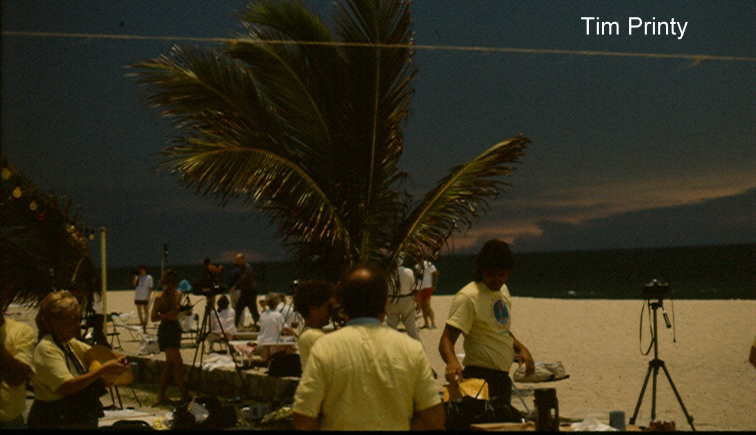 A 50mm shot of the sky just after totality in the direction of the moon's shadow.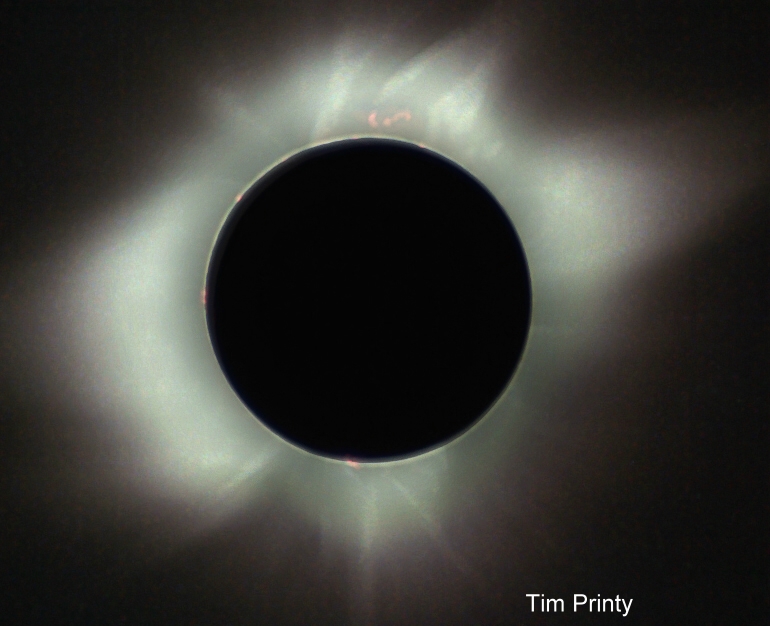 A composite image of several of my exposures taken during the eclipse showing the inner details of the corona.