Life as the "Bull Nuc" and retirement- USS Honolulu SSN 718
It seemed like my tour in Orlando was too short because, before I knew it, I was returning to sea. However, this time I was going where I wanted. Looking back on it, I should have heeded the warning about being careful about what you wish for. My final tour of duty, which I had envisioned as an enjoyable exercise where things would move along smoothly was not to be. This tour would be my most challenging tour yet.
I met the USS Honolulu in Guam on its way back from a Western Pacific deployment. Just as I was new to the game on board USS Providence, I was also new to the way things were done on board USS Honolulu. The Senior Chief I relieved was well liked and had a style that was a bit different than my own. He was a great guy and an excellent department chief. He assured me things should go well for me and not to worry but, as with my arrival on Providence, I was concerned about how things would go.
Shortly after assuming the role of department Chief, I had to deal with a shipyard period. Unlike Groton, most of the dry dock work was done in a shipyard environment, which made things move along at a slower pace. This was very frustrating. This is a photograph of the sub in dry dock with the crew.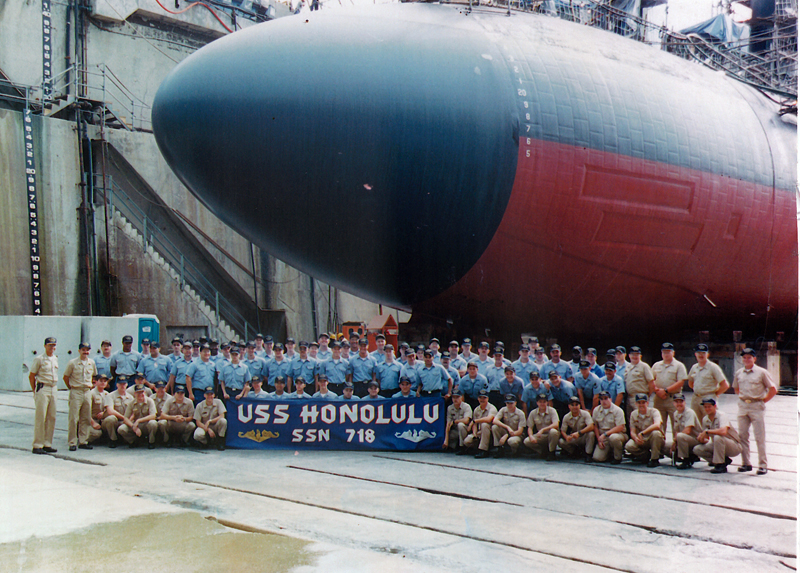 After this period, we then went to perform some special acoustic testing in Alaska. There was some liberty for a few of the engineering personnel but not for me. This is the closest I got to touching land in Alaska. It is hard to believe this was February in Alaska. I don't look that cold. From what I was told, there was not much to see ashore anyway.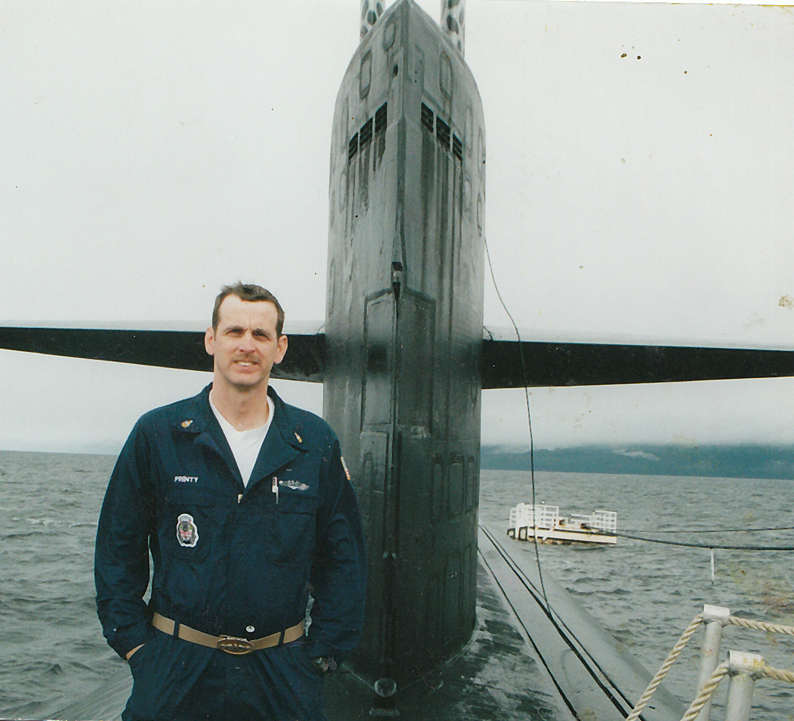 After returning from Alaska, we got a new Engineer. I was surprised that it turned out to be one of my division officer's from the USS Providence (he is on the far right). This photograph has most of the Engineering department. I am the Khaki uniform kneeling in front.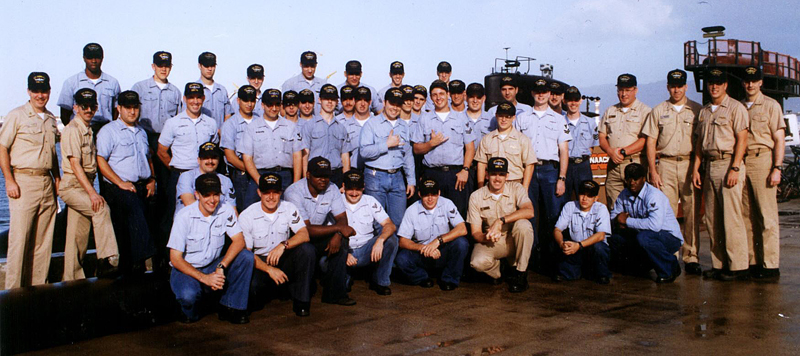 By May of 1998, I decided that I needed some extra help in my personal life. I chose to final marry the girl of my dreams. We got married at the base chapel and the Commanding Officer of the sub gave the bride away. It was a nice wedding and the Commanding Officer was glad to be part of the ceremony. I also got to wear my dress whites again.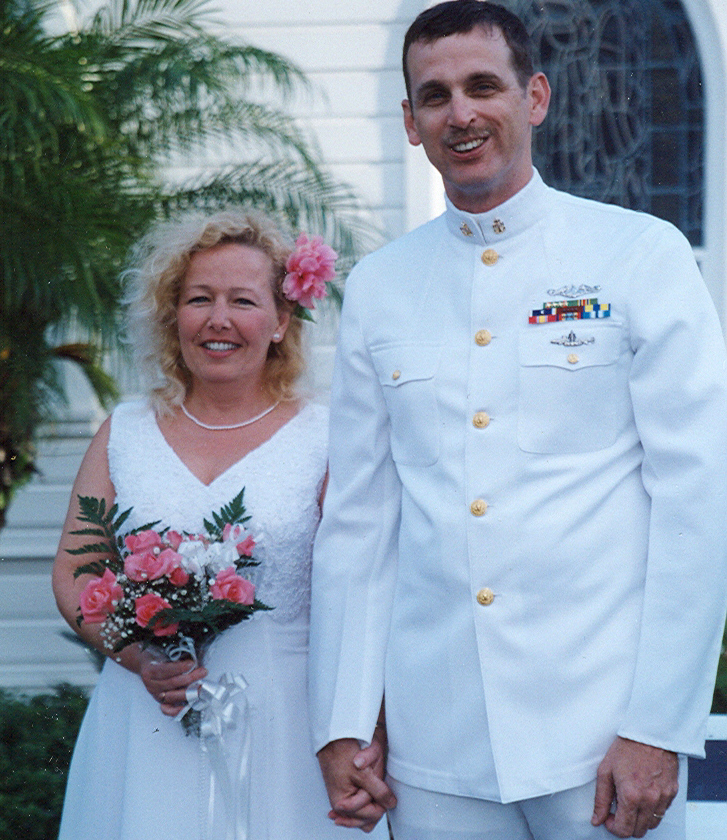 The next few months involved more shipyard work and some local operations. The next thing I knew, the ship was getting ready for another Western Pacific deployment. This is me on the pier as we were getting ready to get underway in January 1999.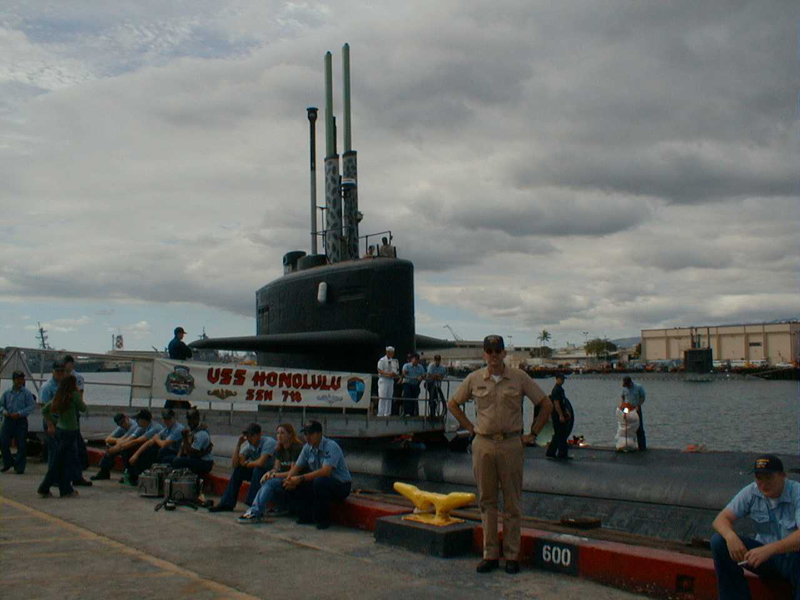 Before conducting our operations in the Western Pacific, we had to pull into Yokosuka, Japan to load on with supplies and extra personnel. This is a photograph of the sub shortly after it arrived.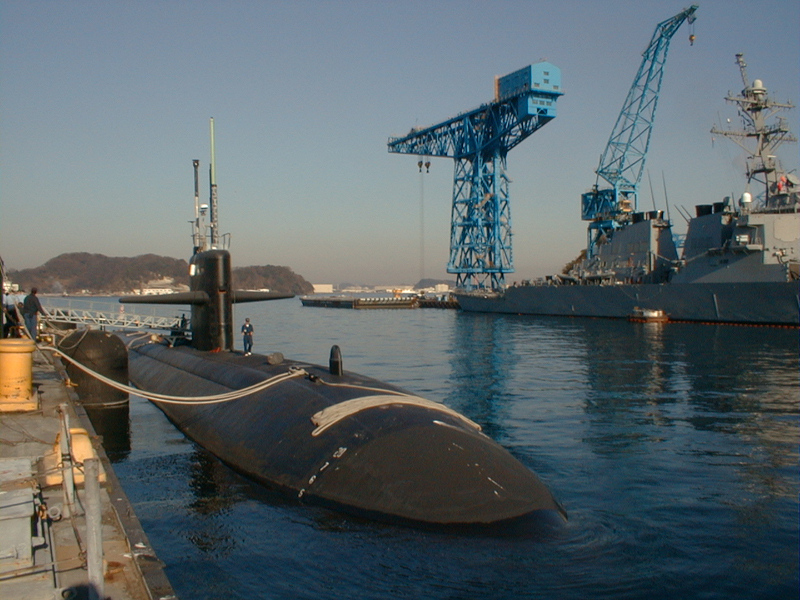 This was a good time to have the chief's quarters pose for a photograph.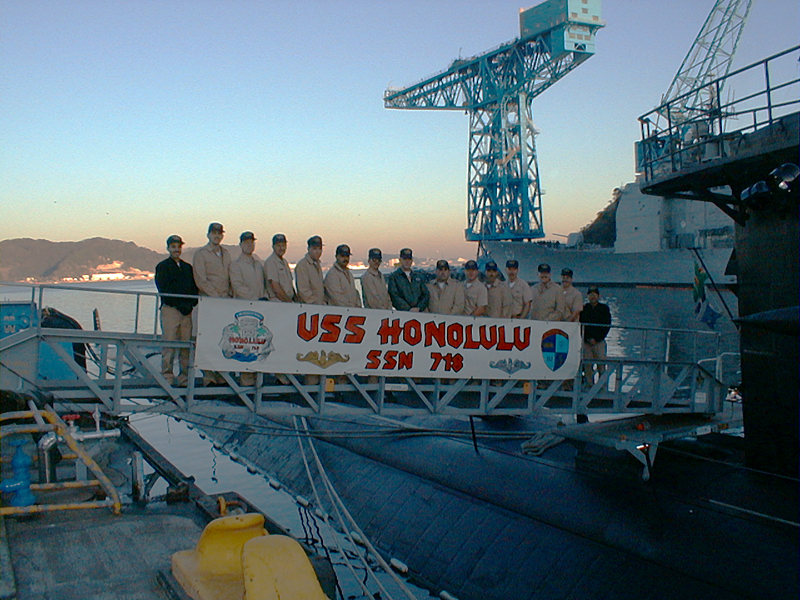 While we were in Japan, I got to take a bus tour of the area around Mt. Fuji. Here is a photograph of me with Mt. Fuji in the background.
We made a trip around the mountain. On the north side, we passed through the Fuji Five Lakes region. This is Kawaguchiko town as best I can tell. The lake has the same name as the town. Because of the sun that day, photographs of mount Fuji from this location did not turn out very well.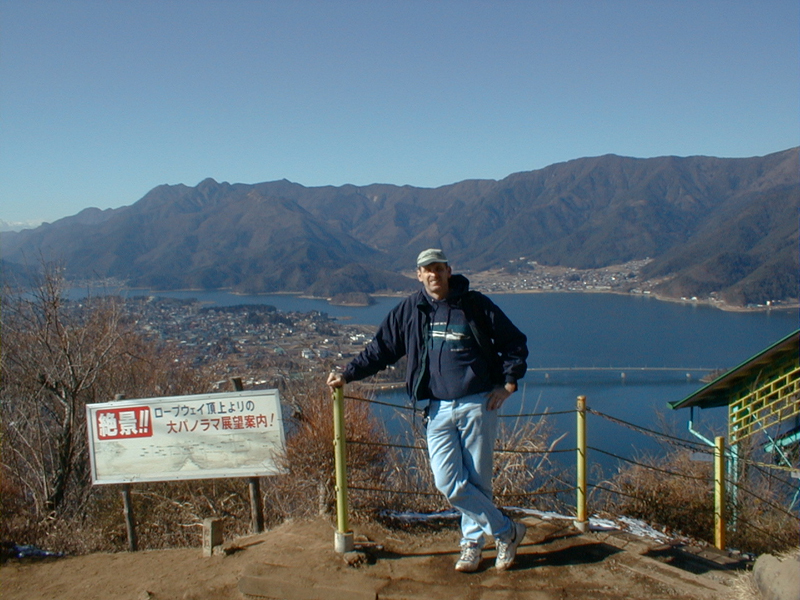 I also visited the Imperial gardens in Tokyo. Unfortunately, in January the Gardens are not so great.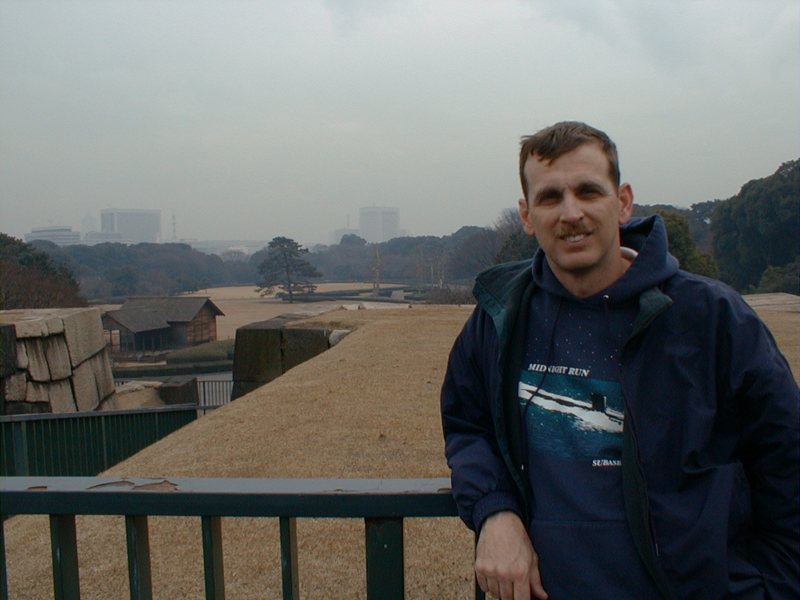 This is a picture of me in front of the moat surrounding the palace area. The pagoda like structure is interesting.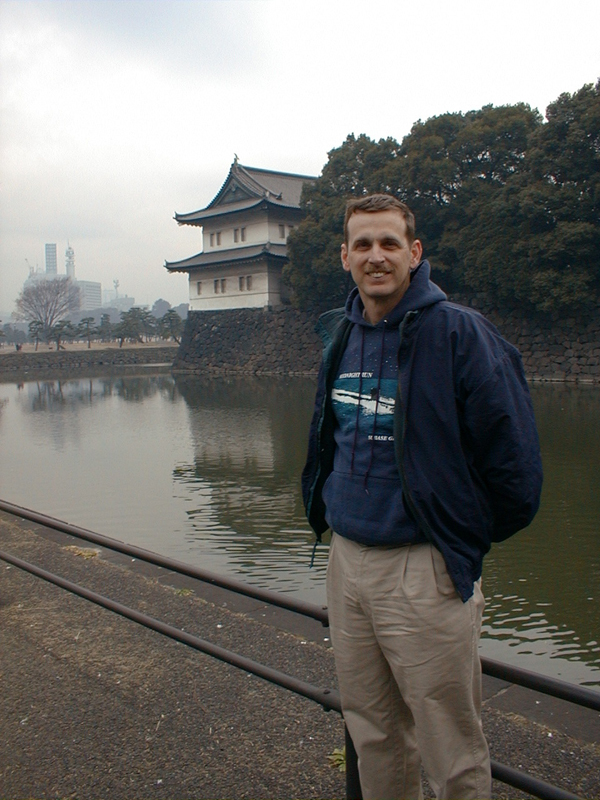 One other place I managed to visit while I was in Japan was Kamakura. There I visited the great Buddha. It was huge!
If I recall it was a Sunday. There are lots of shrines around Kamakura and it was a lot like Sunday in the states around church time. This the Tsurugaoka Hachimangu shrine.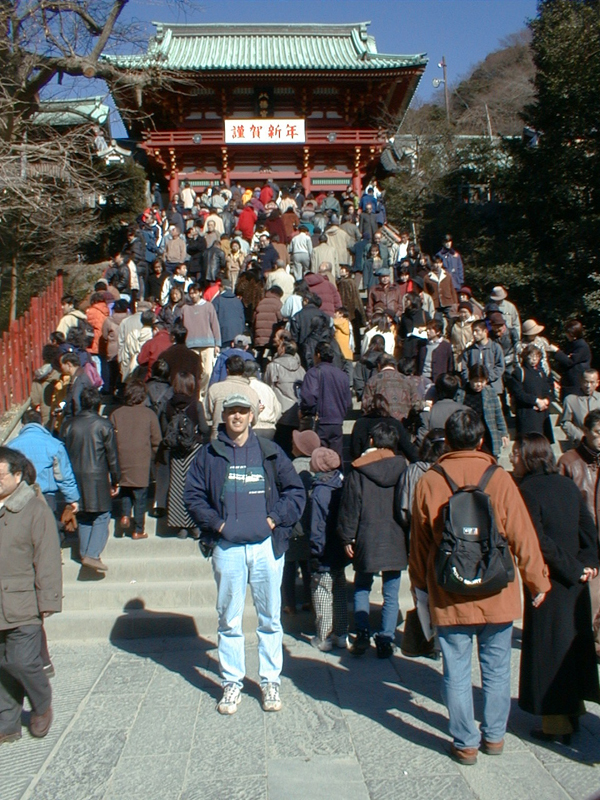 As we walked around Kamakura, we went along a trail and came out into a park with a statue. I had no idea what it was until I looked it up recently. This is Genjiyama Park and the statue is of Minamoto no Yoritomo, who was the first shogun of Kamakura.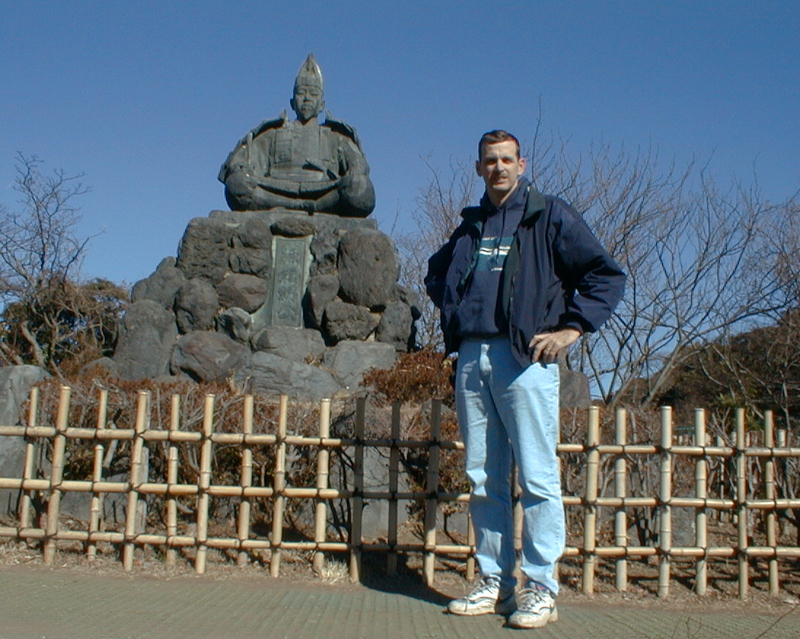 Once the captain was briefed and extra personnel were on board, the sub left for sea. We spent several months on operations that basically was pretty mundane for the Engineering section. As a result, we spent a lot of time playing cards on Saturday night in the CPO quarters. It made the time at sea tolerable. Here is a picture of the card players. Four of us were nucs and the guy next to me was the corpsman. Because we were out to sea we could grow beards, which explains my attempt to look like Grizzly Adams.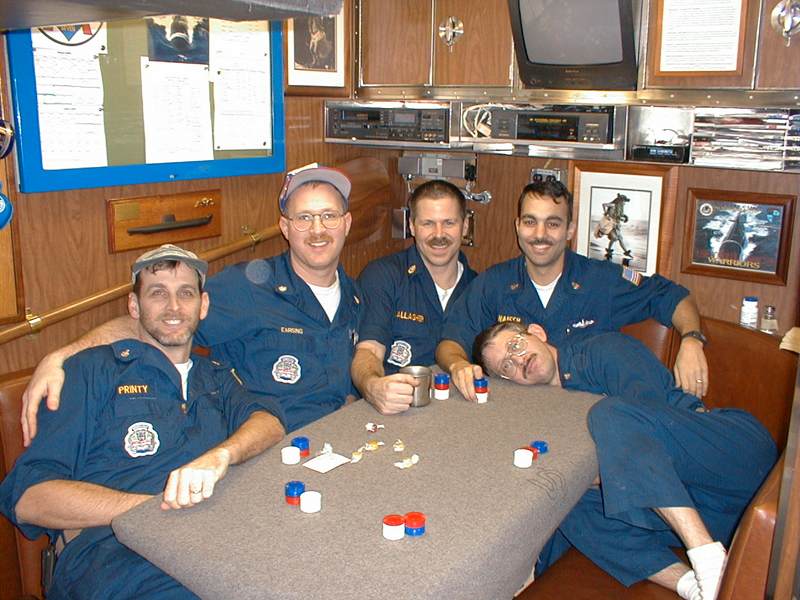 Before I knew it, we were getting ready to return to port. However, we did not go back to Japan. Instead, we went to Guam where the tender was located for a two week upkeep. This is a photograph of the CPO quarters on a night out to celebrate two of the chiefs being promoted to Senior Chief.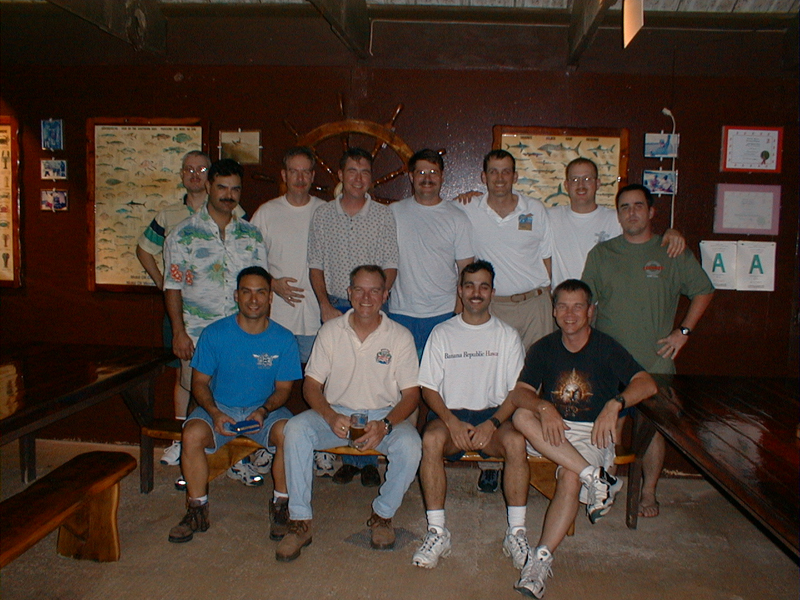 I had been to Guam once before and felt a desire to make a circuit around the island. We rented a car for a day and saw all the sites, which took a few hours. Here I am at Talafofo falls near the southern end of the island.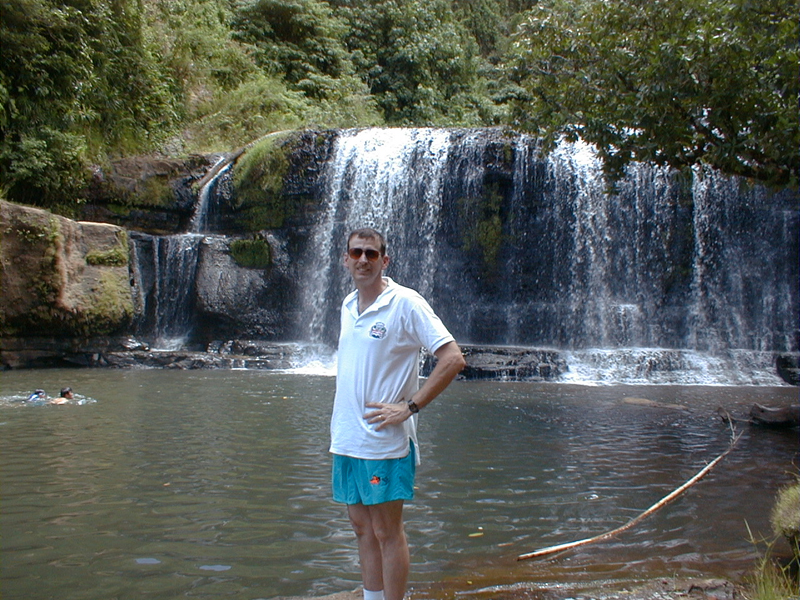 Nearby was the area where a Sgt Yokoi hid for 28 years after the US had invaded the island back in 1944. He lived in a small tunnel/cave he made in the ground. In 1972, he was finally discovered and returned to his homeland in Japan. He apparently was awaiting for the return of the Imperial Japanese Navy to rescue him. He was something of a celebrity. Here I am just before going down into the hole where he lived. It was very small and cramped. I have to tip my hat to this guy because I could not have spent more than a month there.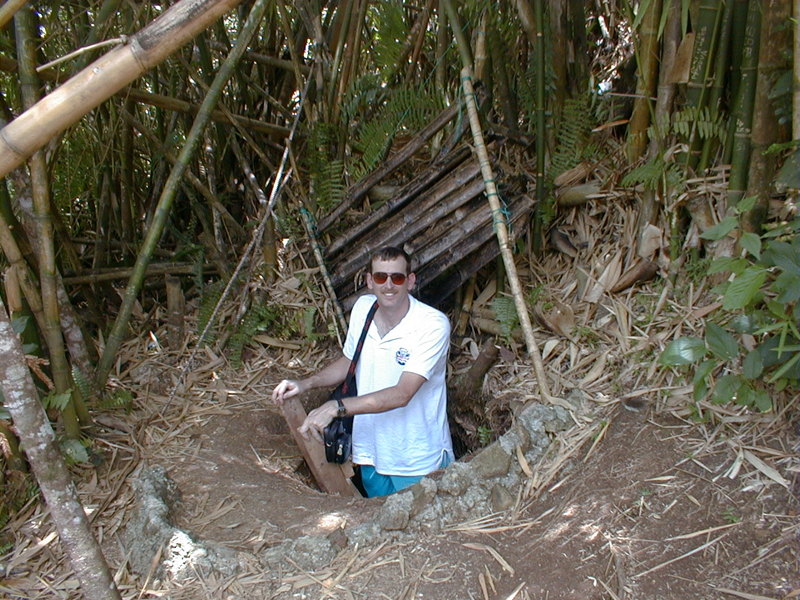 Guam was pretty mild as far as liberty was concerned. There is not much to see and the only night life was in the small town of Agana. It was nice place to visit but there was not a lot to write home about. Meanwhile, the crew had to get the sub back to sea for it's next assignment. We made a quick stop in Okinawa to pick up a few personnel and the new commanding officer, who was to relieve the Captain in a few months. Unfortunately, we had a malfunction when we arrived in Okinawa and could not put back out to sea. What was supposed to be a stop for a few hours turned into a stop for a few days. This is a photograph of me next to the sub at the pier.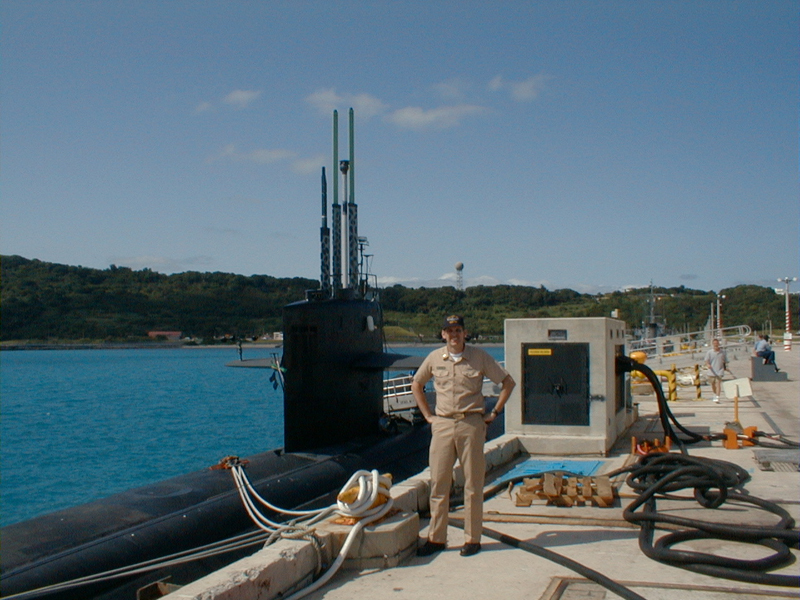 After repairs were complete, we hastily left Okinawa and then proceeded on towards are mission. Like the previous mission, it was somewhat routine for most of the crew. The Chief's ran a pizza night, where the Chiefs made pizza for the crew. This is after the event, where all the chiefs involved were relaxing. Again, some of us attempted beards. I did it because I just did not want to shave.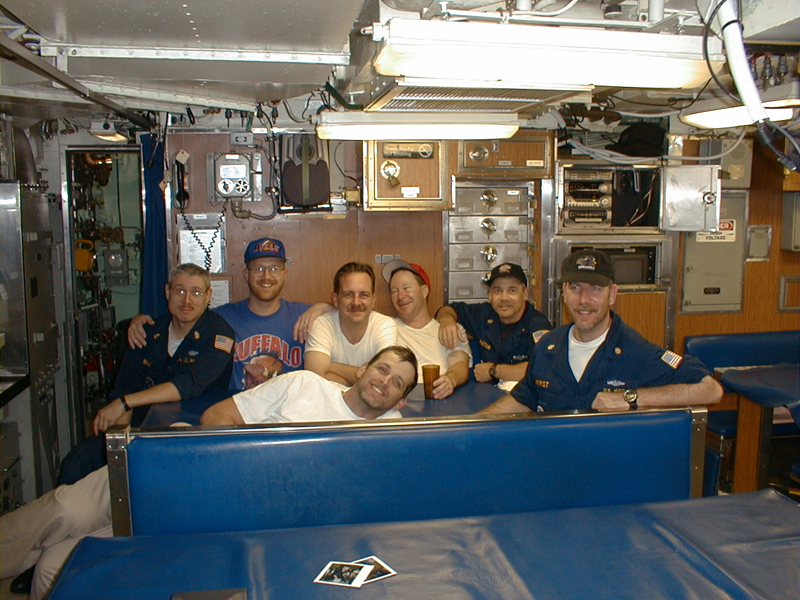 Upon completion of the mission, the submarine pulled into Sasebo, Japan. This is a photograph of me in the hatch as the ship was pulling into port.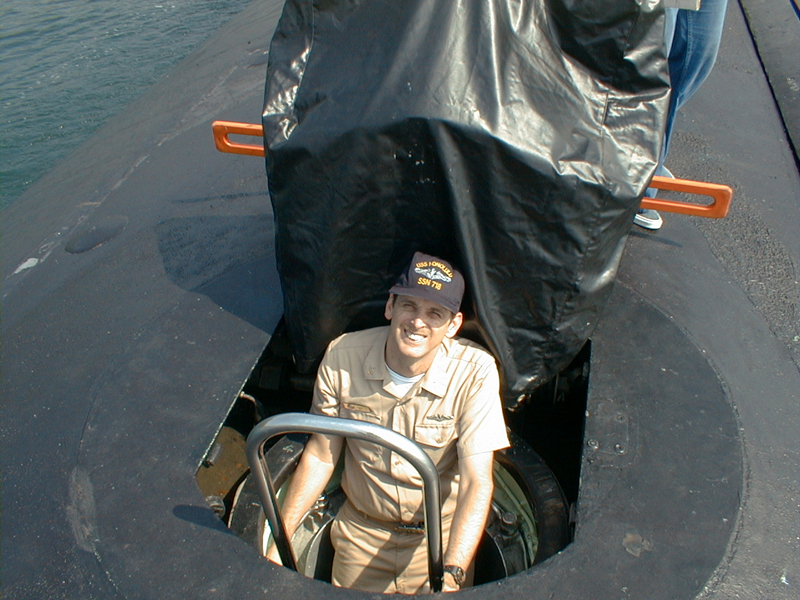 After arriving in port, there was a very brief stay as the extra personnel were allowed to get off and the mission was debriefed. There really was not much to see for me as it was only for a few days. Some went to Nagasaki nearby. I stayed and did some sightseeing near the navy base. I took a stroll up Mt. Yumihari overlooking the port. It was a nice walk after spending the last few months aboard ship.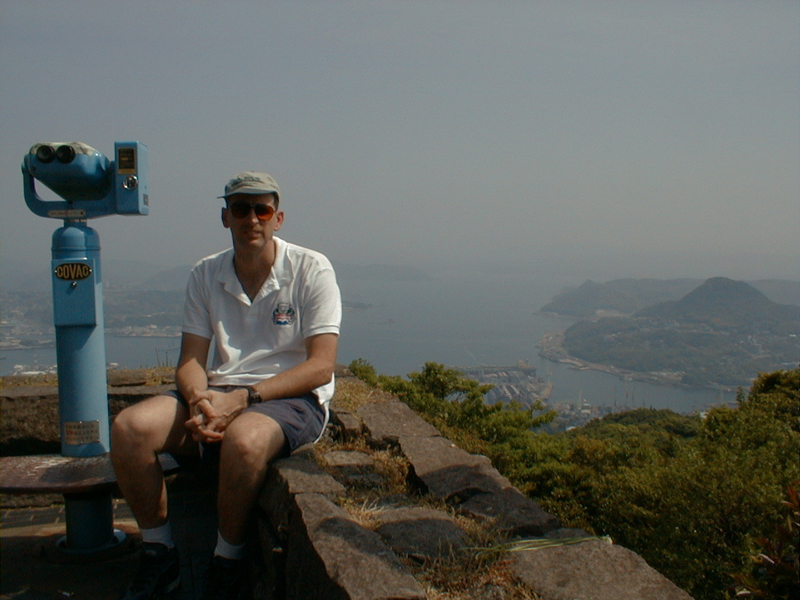 The submarine left Sasebo for our one and only true liberty port for the entire six months. That being the "Sailor's paradise" of Pattaya, Thailand. We spent a lot of time on the surface to arrive there, so I got some pictures topside. This is a pretty nice picture of the ship's bow plowing through the ocean.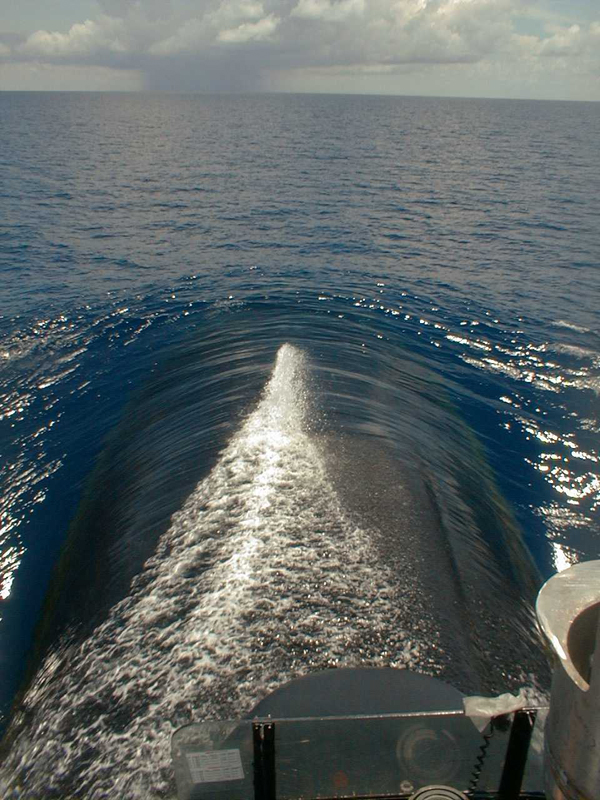 This photograph shows me standing up on the sail enjoying the fresh air.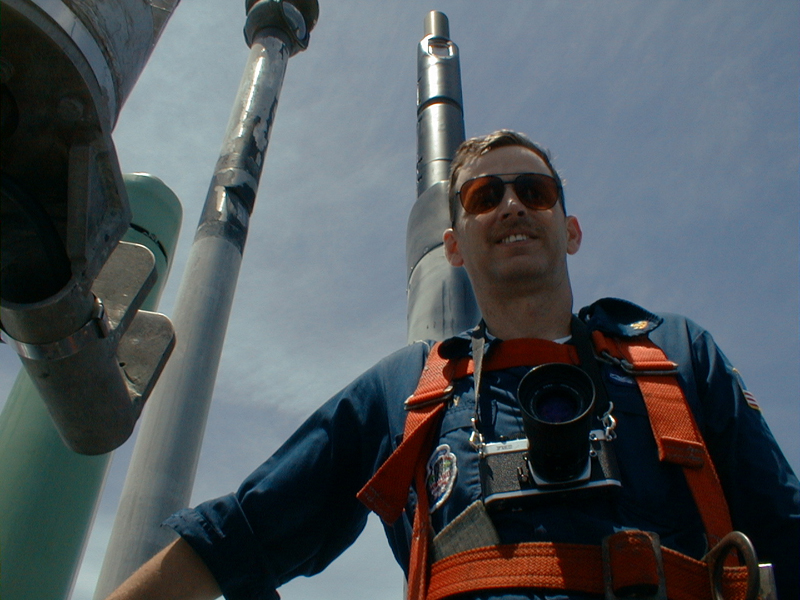 Upon arriving in Thailand, we anchored off of the coast and a small boat came in to pickup and drop off crew members going on liberty. Because we were not moored to a tender, my department had to operate the reactor to provide power to the ship. This meant that only half the department could go ashore, while the other half operated the plant for two days. After the second day, the sections switched and the other half was able to have liberty. I assigned myself to the second group. This is a photograph of my topside in between my watch periods.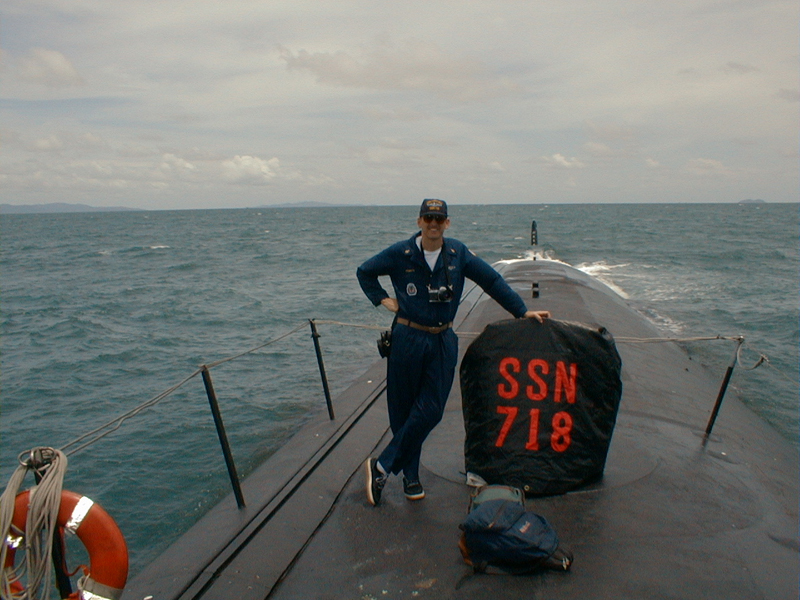 Upon going on liberty, we spent some time looking about and also got an elephant ride. The ride was interesting because the fields the ride went through were full of poppy plants. Apparently, it is a big cash crop. This photograph shows me and the Electrical division chief riding an elephant.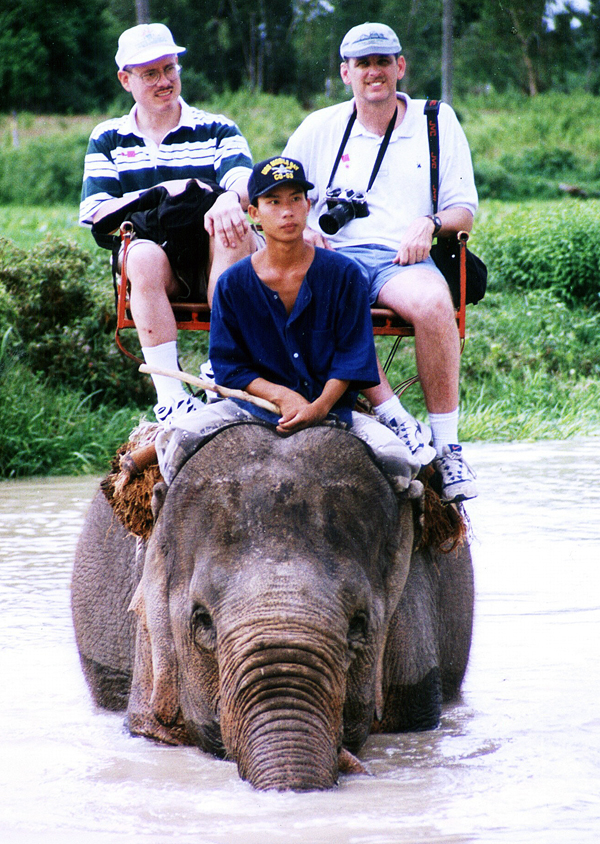 After riding the elephant, I managed to take a bus trip to Bangkok, where were given a tour of the city. This is me in front of the Golden Buddha.
We also took a boat up and down the river. This is a photograph of me on the boat with the "Temple of Dawn" in the background.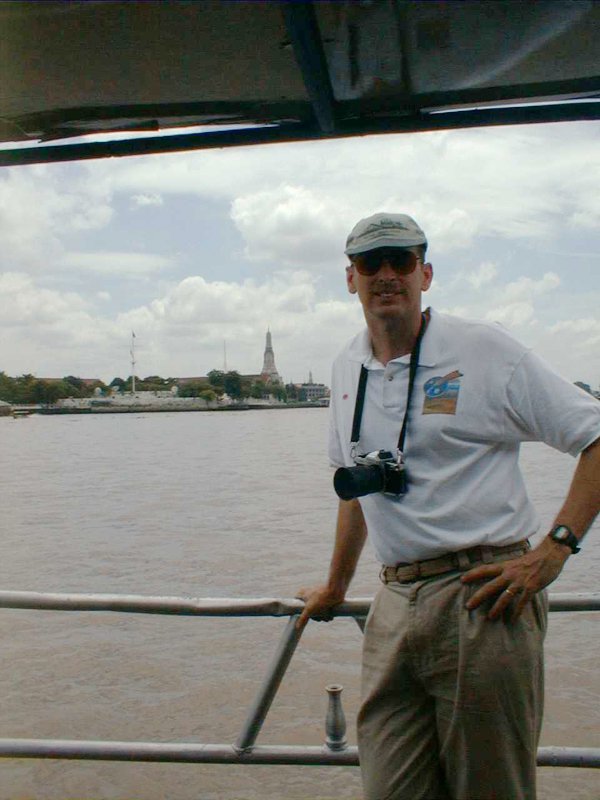 We stayed in a hotel and took a sampling of the night life in Bangkok. There were lots of carts with people selling things. If you went down the wrong road, you would see individuals selling themselves. I had no interest in this part of the town. I only purchased a robe and some software. I later discovered the software would not work properly unless the date on my computer was set back to 1997! Carpe diem. At least I did not spend a lot for it. I had enough of Bangkok after walking about for a few hours and went back to the hotel. The next day, we returned to Pattaya and I returned to the ship to see how things were doing. To be honest, I was unimpressed by the port call. I think the biggest problems I had with it was the lack of any shore support facilities for the ship so the nucs could get more liberty and the nature of the port call. I am sure some of the sailors enjoyed the "entertainment" but I found it less than relaxing.
After our trip to Thailand, the submarine returned to Yokusuka, where the ship had a change of command. Here is a photograph of me after the ceremony.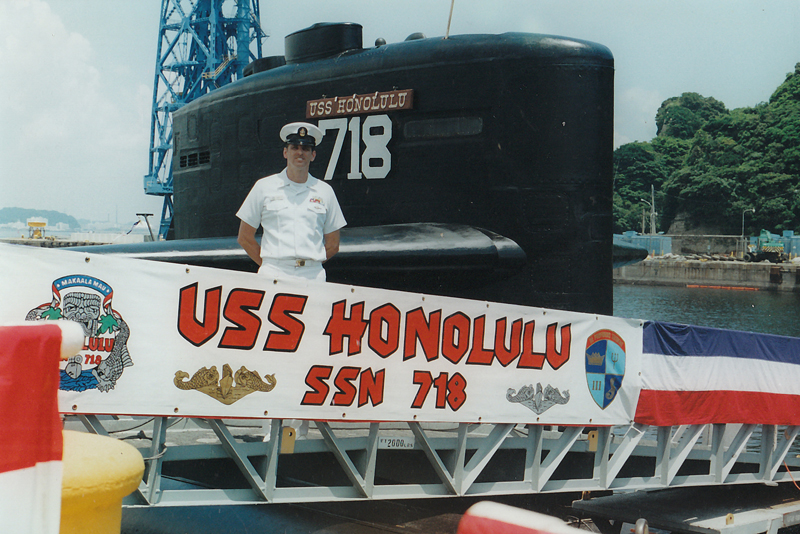 The return to Pearl Harbor was tempered by another ORSE inspection at the end of the cruise. Things did not go as well as they should have. The ship passed but it was not very satisfying as the commanding officer felt we underachieved as did I. It was a depressing end to a fairly successful cruise. Here is a photograph of the crew topside coming back into port.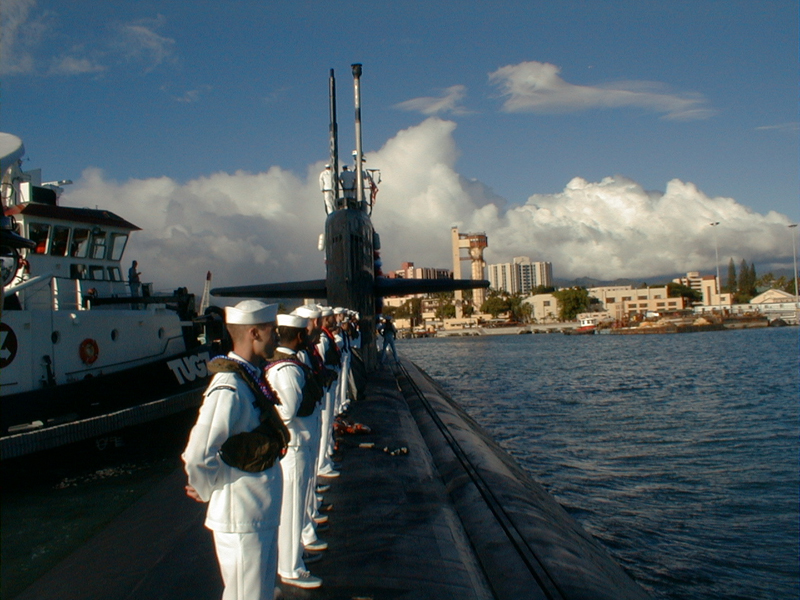 The rest of my tour on Honolulu was marked by just a few highlights. One event was the Chief's quarters celebrating my 40th birthday.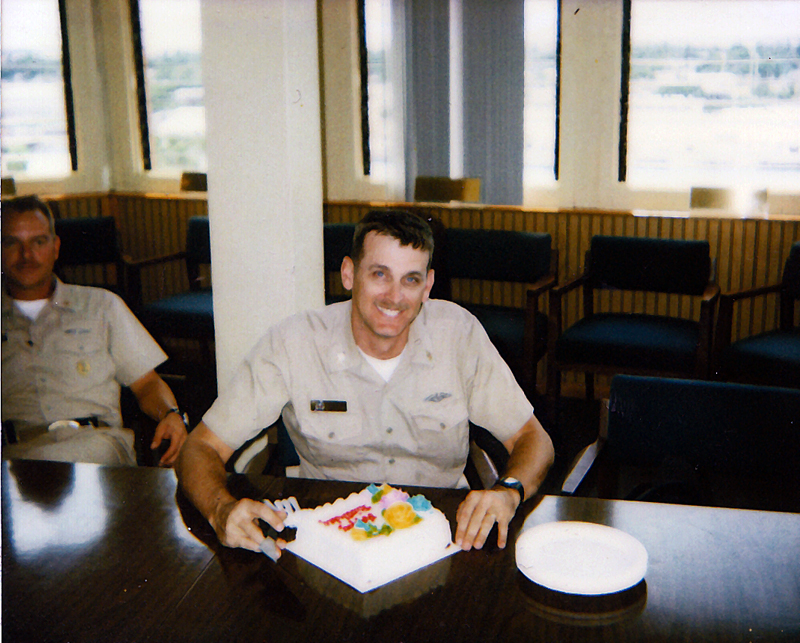 There was also my last ORSE, which went a bit better than the year before. During the work up period, the ship had a swim call. I did not go swimming but did go topside, where this photograph was taken. ORSE was never a fun time for me. It usually meant very little sleep and a lot of concern about not allowing serious mistakes during drill periods. I probably aged a few years during each ORSE work up period.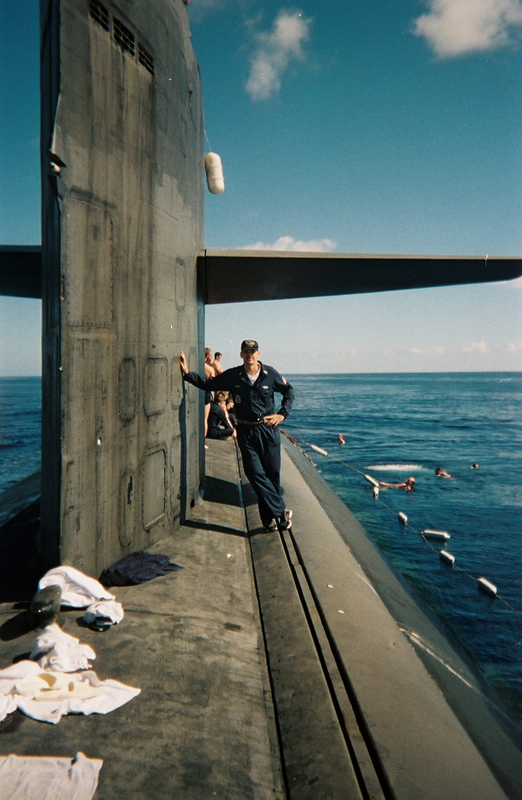 With the ORSE out of the way, I could relax somewhat because I would not have to experience another. The next big event was the 100th anniversary Sub Ball. I normally did not attend these things but the Chief of the boat convinced me it was a good idea. He was right and it was fun. I even got to wear my dress whites again. And I thought I would have to only wear them once in my career!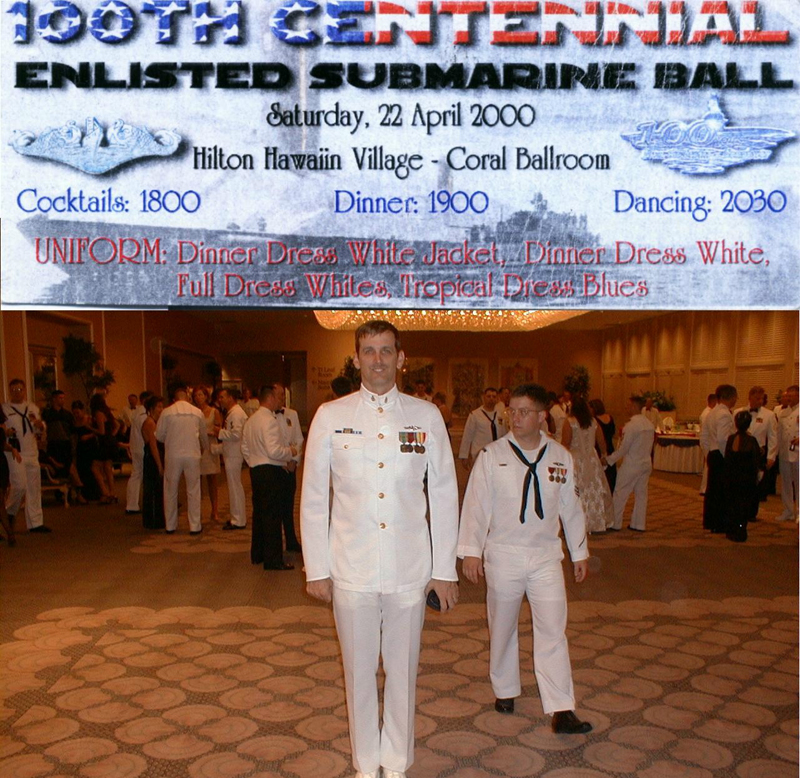 There was one last trial I had to navigate prior to leaving USS Honolulu. That was my retirement ceremony. The invitations were sent and I had to make sure that my family flew in from New Hampshire. I also had to make plans for shipping all my worldly goods back to the states.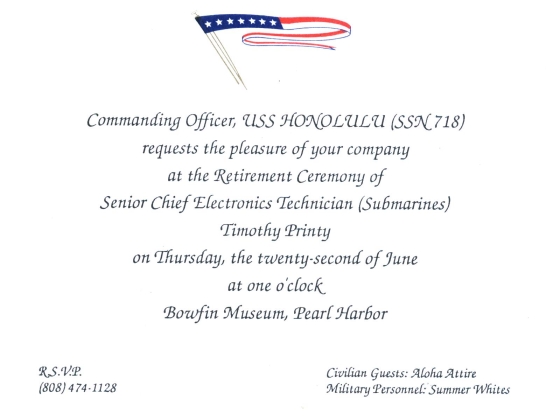 But we had one more cruise. My relief was there and he got accustomed to the department quickly. I was so excited when we returned to port. I even got to be on the bridge when the ship returned to Pearl Harbor. This is near the entrance into the harbor.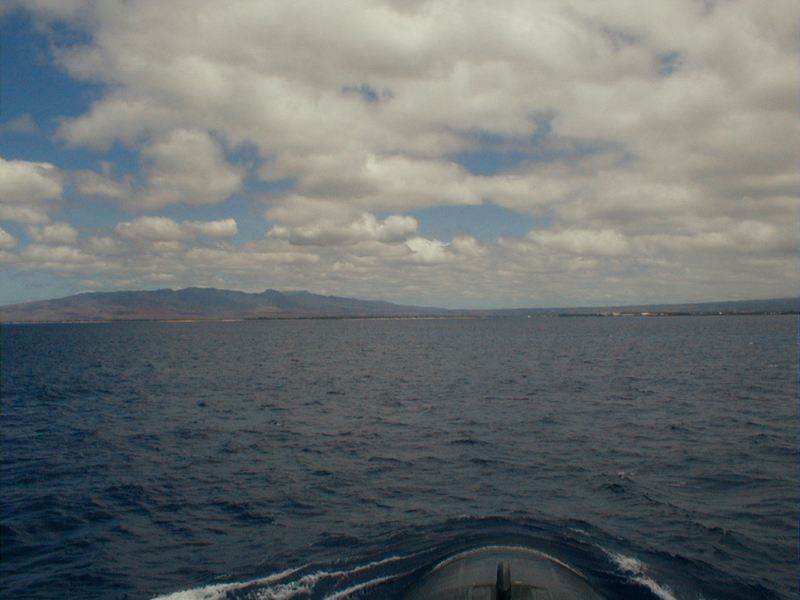 Once inside the harbor, there are a few twists and turns and then the sub enters the submarine base.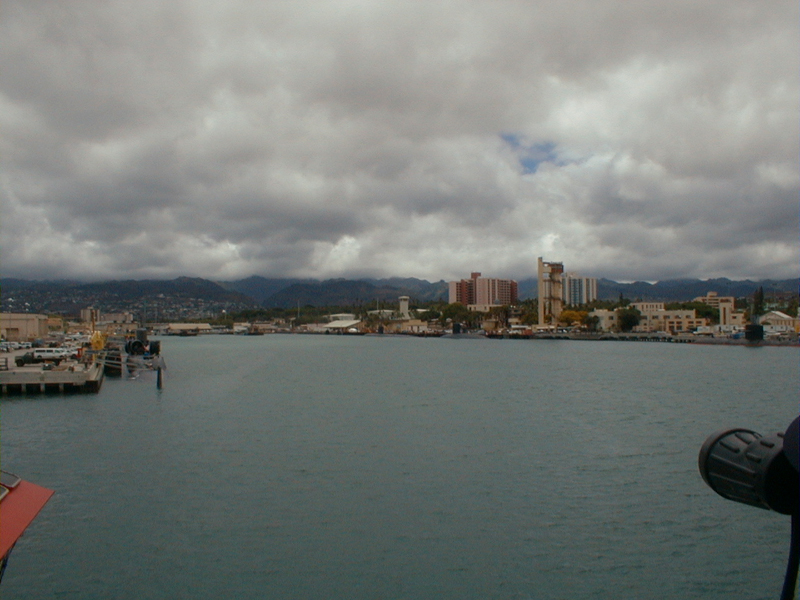 This is a photograph of me topside after the ship was moored. I have a big smile because I know that I would not have to go to sea again.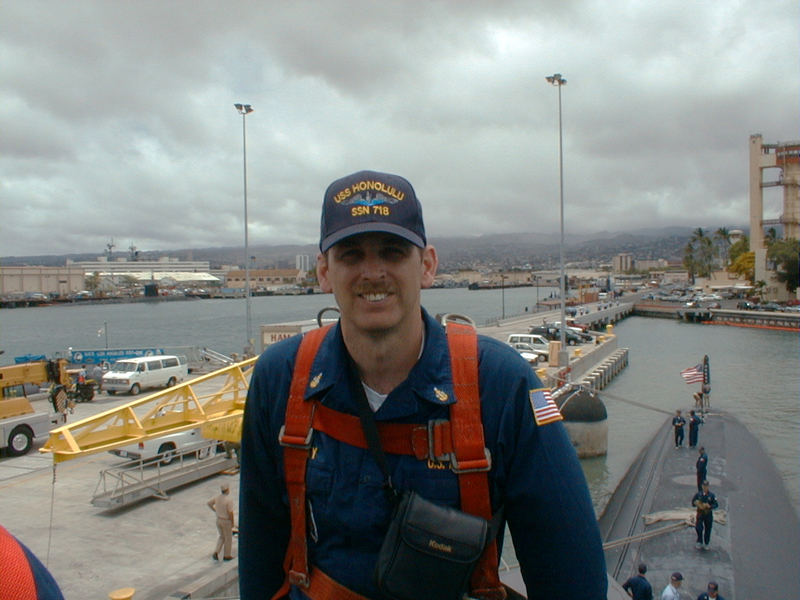 My navy career ended in a ceremony at the submarine memorial in Pearl Harbor, Hawaii. Fortunately, it was a wonderful day and I got to address the crew one last time. This is a photograph of me making the speech.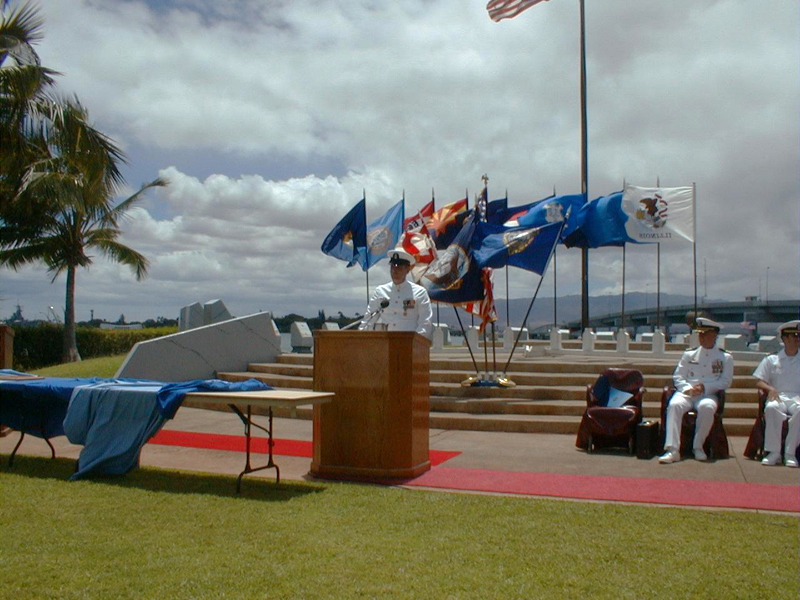 Among the many awards I received that day I think the greatest came from the Chief's quarters. There was a shadow box, a brief case to take to my first civilian job, a small naval ship game so I could recreate the battles I fought in my career, and a set of orders turning me over to my wife! This is a photograph of the shadow box that hangs on my wall today. The flag was flown over the USS Arizona and the gold plates document my different tours of duty in my twenty-two plus years. The medals, ribbons, and other insignia documented achievements. There was a small error on the ribbons in that they missed my "meritorious unit commendation" I received with USS Providence. I did not have the desire to fix the box since it was a gift from the CPO quarters, I did not want to change it. Perhaps I like the idea of a small mistake reminding me of the occasional mistakes I made in my career!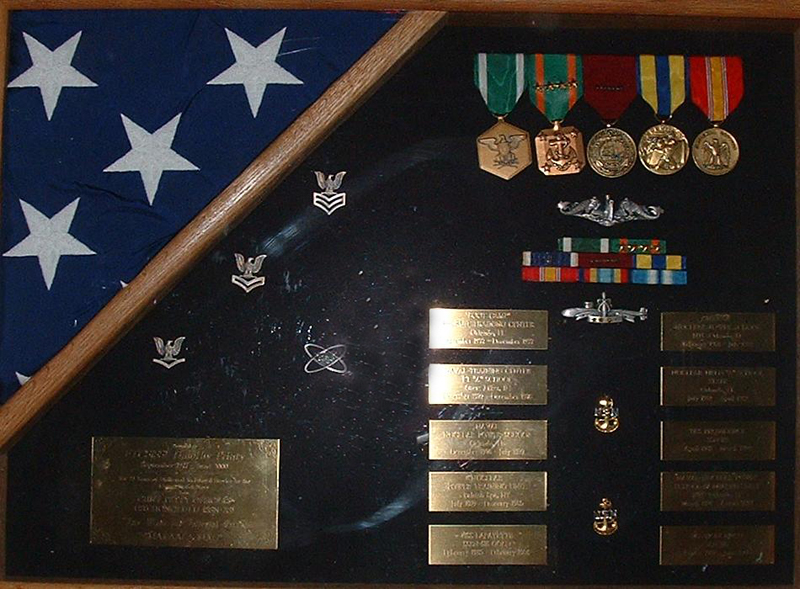 I also received my final Navy award at my retirement, a Naval Commendation Medal.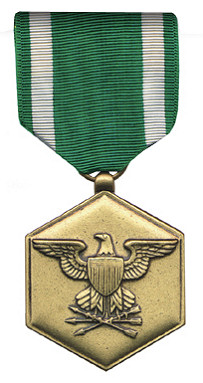 Lastly, my wife Polly and I were "piped ashore". There would be no further navy adventures for me.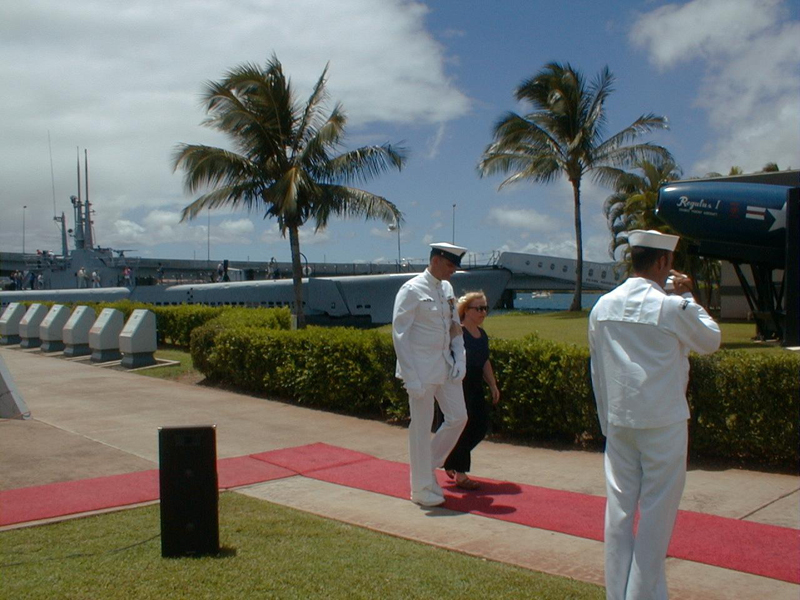 After almost twenty-three years, I can safely state that I was glad to retire. In my speech, I mentioned that I was never going to miss the long days and nights and time away from home but I was going to miss the people I served with. I think that is something I still feel today. With only one or two exceptions, I never had better friends than the ones I served with in the Navy.